Fredericksburg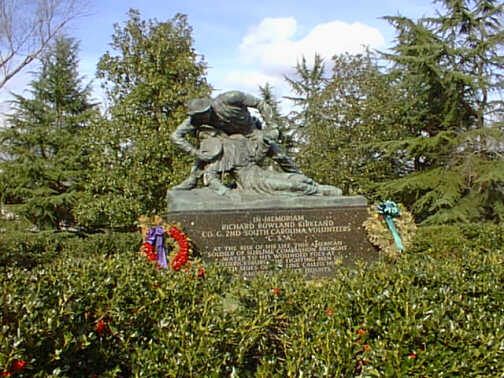 This was also a quick stop, which is why there are only five pictures. I'll be getting back to here soon.



One of the early important battles of the American Civil War, in which the Confederate troops defeated the Union troops. It was fought in and near Fredericksburg, Virginia, December 13-15, 1862. The contending forces were the Union Army of the Potomac with 122,000 troops and 312 guns, under Ambrose Everett Burnside, and the Confederate Army of Northern Virginia with 78,500 men and 270 guns, under Robert E. Lee.

After the Battle of Antietam in September 1862, Lee withdrew from Maryland to Virginia, and the federal government decided that a counteroffensive was strategically in order. Burnside intended to cross the Rappahannock River at several points and encircle and capture Fredericksburg as a preliminary to launching the general offensive against the Confederate army. The Union crossing of the Rappahannock was held up, however, because of a delay in shipment of the pontoon train necessary to the crossing. In the interim, Lee, who had at first decided to await the Union forces at a point 58 km (36 mi) south of Fredericksburg, moved to the Rappahannock and fortified the heights commanding the river. The Union army crossed the Rappahannock directly opposite Fredericksburg and launched frontal assaults against the Confederate troops. The attacks were repulsed by the Confederates, and the defeated Union army was compelled to withdraw to Falmouth, Virginia. Union losses were 1284 killed, 9600 wounded, and 1769 missing; Confederate losses were 595 killed, 4061 wounded, and 653 missing.


"Fredericksburg, Battle of," Microsoft® Encarta® Online Encyclopedia 2000 http://encarta.msn.com © 1997-2000 Microsoft Corporation. All rights reserved.